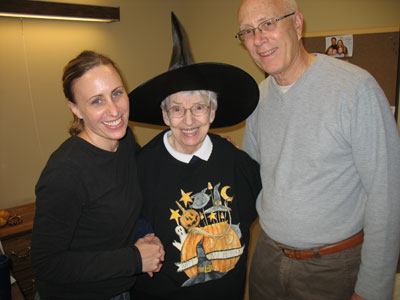 She might look like a witch in the photo with my dad and I, but looks are deceiving. Grandma Agnes passed away quietly in her sleep in February. Luckily, she was healthy and took care of herself up until she entered the nursing home last November. This weekend, the family is getting together to bury her ashes in Cottonwood, MN by my grandfather (her first husband). She was always goofy and had a sense of humor. My mom said that she wanted to be cremated – she didn't want to ride in the hearse all the way from Moorhead, MN to Cottonwood because she got car sick!
I'm grateful that I got to see her last November. While on our visit, she had to show us her Halloween costume. Kids were invited to the Halloween Party at the nursing home and grandma told us of a little girl that had squealed, "Look, a witch!" when she noticed her. She was tickled, thinking about the kids.
A few years ago I had my grandma fill out a book about her life. This tickled her, too, because her brother and her second husband both had books on their lives. Turns out, she's led an interesting life.