Burp Factory Snipet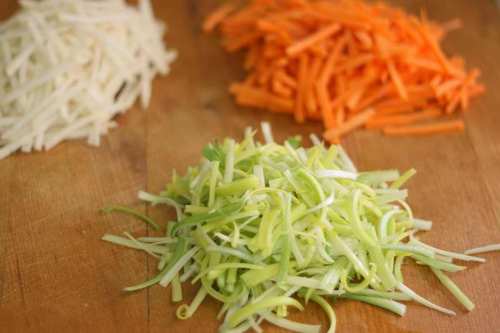 Almost everyone seems to be so serious nowadays, serious about money, jobs, relationships, family, health, religion, politics, jeez I could go on. I even found myself serious. So I've started working on a novel in which the characters learn how to play games and have fun again, just like when they were kids. It's tentatively titled the Burp Factory. The Burp Factory is summer camp meets addiction center (addicted to being serious) for adults. In this snipet, the new guests, Pinky, Julie, Cameron and Mel, are getting a tour of the kitchen from Alexa, the head chef . . .



Part of their program would include cooking classes. Julie rolled her eyes.


"What?" Pinky whispered.


"I already know this crap, I'm a chef." Julie fogged Pinky's sterling pendant necklace as she breathed out. Pinky was turned off by Julie's abrupt behavior and hot air. Plus she believed that Julie must not have been a successful chef because all the good ones were fat.


"I'd love your input." Alexa overheard Julie. "We'll talk later and if you'd like you can help with the training."


"Yeah, but I'm juliennian," Julie crossed her arms over her chest and proudly announced.


"Yes, I heard and a good one." Alexa smiled and Julie puckered her lips. It was then that Pinky realized why Julie wasn't plump; she was shaped like her food. It all made sense. No whip, fluff, or mash, just sticks. Pinky couldn't even imagine eating like that. Julie pondered the idea of helping and then decided she would do it. After all, she had been named 'Top Chop' at the Regional Julienne Chef Awards for the Western United States.


"A what-a-e-what?" Mel dropped his mouth open.


"It's because her name is Julie." Cameron bit his cheeks trying not to smile. Mel and Pinky roared. Alexa held her fingers to her mouth to hide her amusement.


"I'm adept in the art of shaping food." Julie danced on her words. She was not amused by the comment but was not going to let it affect her. Mel looked confused. "It's cut in such a way that it helps with the digestion of food."


"I guess I'll just have to try it." Mel shook his head. He was used to fine dining on his expense account but had never come across that type of food.


"It's food shaped like a matchstick or shoestring. You know, like shoestring potatoes." Pinky chimed in. Mel still did quite grasp it.


"French fries." Cameron stated.


"Oh, I'd like that," Mel rubbed his belly. The saddles under his eyes drooped as his mouth curved up. Julie rolled her eyes. They had whittled her down to a fry cook. She did not pay six figures in the culinary arts to be deemed short order.